These practical tips about Holland for visitors will ensure your trip to Holland will be more enjoyable and above all, more relaxed.You can click from the index below directly to the topic of your choice. Or of course, you can read them all, and you'll be current on everything Holland ;-)Find practical information about topics like the best time to travel, the weather, accessibility and everything in between.
Practical information Holland for visitors. Photo: Filip Bodlak
Table of content:
Accessibility:
Beach Wheelchair at Dutch Beach. Photo: Simone
If you travel with a disability, you should find – in general – that Holland as a country is well adapted for travelers with a disability. Most public buildings are accessible, as are most museums, theme parks, and restaurants. Taking public transport is – in general – possible, but it will require some extra planning if you take the train. The one major exception in the Anne Frank House Museum. Read more about that here.Public spaces in moderns parts of villages, towns, and cities are well adapted to wheelchair users. Still, older historic city centers can prove challenging at times.Read our full article about travel in the Netherlands with a disability here.
Airports
Amsterdam Airport Schiphol is the main airport of the five airports in Holland – Photo: patano [CC 3.0]
Amsterdam Airport Schiphol is the largest airport in Holland and used by most visitors.
There are also four smaller airports in Holland. They can be convenient if you want to combine your visit to Holland with other European destinations. Usually, you can travel at better prices from these airports, and you're in and out of the airport much quicker.
These airports are:
Rotterdam/The Hague Airport

Eindhoven Airport

Maastricht/Aachen Airport

Groningen Airport
Read more about the airports in Holland in our dedicated post here.
Best time to travel to Holland
Beautiful autumn colors in Holland. Photo: Romanboed CC BY 2.0
Holland can be visited all your round, and there are pros and cons for each season.
Spring is one of the most popular seasons to visit Holland. Expect large crowds and high prices, especially in flower season. That is between the last week of March and the first week of May. The best week to see most flowers in bloom in the 2nd and 3rd week of April. April and May are also the months with the most sunshine (on average) in Holland.
April and May are also great for events. On April 27th, it's Kingsday, May 4th is Remembrance Day, and May 5th is Liberation Day.
Kingsday is a national holiday and the most significant national celebration you'll ever see. Make sure to wear something orange if you're here!
Summers can be hot in Amsterdam or full of rain. You never know. Neither is particularly pleasant.
The Germans will invade our beaches :-). And in August, when all of France and Italy have their holiday at the same time, Holland, and especially Amsterdam will burst to its seams with tourists.
Oh, and Dutch have their long summer holidays as well. And they're going on many day trips to keep themselves entertained by the masses, adding to the busyness of attractions all around the country.
Its not the best season to visit if you have a choice. Unless you have an urge to practice your French, Italian, or German, then summertime is perfect!
The one event that is worth visiting during the summer, despite high prices and crowded streets is Gay Pride on the canals of Amsterdam.
Autumn is a great time to visit Holland and see the beautiful fall colors on the trees. Prices are low this season, most tourists are gone, and nature is at its most beautiful again (after the flower season).
Holland might be known for flat green grasslands with cows and windmills. But the country also has gorgeous forests all around, which become spectacular during the fall season. Put on your hiking boots, bring a warm coat, and explore Holland as not many visitors do.
Winter is the slowest season of them all. But also as the Dutch say "gezellig" (cozy). It might be dark outside but lights, candles and holiday decorations are everywhere.
In December you can visit Christmas fairs and markets at castles, old medieval cities and even in caves. Plus, the famous Christmas markets in Germany are just around the corner. Easily accessible on a day trip.
Prices will be the lowest, and there won't be many tourists visiting. If the dark and cold don't bother you, this might just be the best time for you to visit. One side note the two weeks around Christmas are crazy busy in Amsterdam. If you can avoid Christmas/New Year in Amsterdam, do! There are no major celebrations anyway.
Drinking water
Amsterdam and the rest of Holland have the best tap water in the world. Quality is that good that you won't taste any difference between bottled and tap water. Please do not buy bottled water when you can avoid it. It's taxing to the environment and your wallet. Dutch drinking water is safe to drink.Some restaurants serve tap water for free, but most don't. Also note the serving size of drinks in general in restaurants in Amsterdam and the rest of Holland are small. On average 200ml/7 fl. oz. And they are expensive (non-alcoholic beverages like mineral water and soda cost around €2,50 per drink), no free refills either.
Drugs
Picture of Coffee shop in Amsterdam – This is a NOT a place to get coffee – Photo: coffeeshoprelax CC BY 2.0
Amsterdam and Holland have a liberal image when it comes to drugs. But are things as relaxed as they look? The short answer is no.Usage and selling of soft drugs, including marihuana, are tolerated and regulated via "coffee shops." That doesn't mean it's socially accepted, however.It's also illegal to smoke in public spaces. In tourist areas, this is not enforced, but elsewhere in the country, it is. There is a significant social stigma about drug usage, including marihuana. It's not regarded as something cool by the Dutch. Drug usage, any drug, is usually associated with social problems and a low income.So why do we tolerate/legalize it?The Dutch have always been pragmatic. By regulating it, you take some of the criminal activity away. Now you can also tax it and provide healthcare. Some of the curiosity even disappear. Everything forbidden tends to be more interesting, right?Read more about the Dutch here.
Dutch Food
Ok, our cuisine might not be famous. We get it. Expats often describe it as dull. Meat, veggies and potatoes, and nowadays, no salt.Most Dutch will take a wholewheat sandwich with one slice of cheese or ham, nothing else, to work. The Dutch consider their main meals usually as practical. That doesn't sound exciting, does it?The good news is you can find excellent restaurants with kitchens from all over the world everywhere in Amsterdam and the rest of Holland. From a quick, wholesome tasty meal to a Michelin starred restaurants. Rest assured, you won't be deprived of good food. Indonesian and Surinam cuisines are all around Holland, due to its past colonial ties. Both kitchens are amazingly flavorful, and a must try when you visit.We do have Dutch food specialties that well worth to try. We've written a whole post about them. We tend to be excel in snacks, candy, pastries, seasonal products, and everything fried.A Bitterbal anyone?Read all about Dutch Food in our post:"Dutch food to eat in Amsterdam and the rest of the Netherlands."
Electricity
In Holland, we use 220-230 volt. If you're traveling from a country that uses 110-120 volt like the US or Canada, be aware that not all your devices will work here.Usually, chargers for personal electronics and shavers can handle both voltages but check the adapter to see if this applies to your appliances. Look at the image below to know what to look for:[photo check adapter]Our plugs are the round two-prong plugs, with or without grounding. Make sure to buy a travel adapter before you leave home if your plugs look different. [image plug power adapter]
Healthcare
Dutch medical care is considered one of the best in the world. You can find well equipped modern hospitals is all major towns and cities around the country. Doctors, nurses, dentists, and other healthcare professionals will speak English. Most medicines are available in Holland. Make sure your (travel) insurance covers the full costs of medical care in Holland or be prepared to pay upfront if you need treatment.The medical system here works differently than in most countries. You can't go directly to the emergency room yourself unless there is a life-threatening emergency. Otherwise, a family doctor needs to refer you to a specialist first, if necessary.
Immigration (Passport, Visa, and ETIAS)
Most visitors from western countries don't need a visa for Holland when visiting as a tourist or for business. Just a valid passport (valid for at least three months after your intended departure) is enough. If you live in the EU, an identity card is even sufficient.There is some confusion out there about ETIAS. It stands for European Travel Information and Authorisation System. If you are living outside the EU, but are allowed to travel visa-free, you'll need to apply for a pre-clearance to go to the EU when ETIAS comes into effect.The fee will be €7, and you will be able to apply online. Once approved, your travel authorization is valid for two years for multiple trips.ETIAS is not yet in effect. It's not necessary or possible to apply for it now. Of course, we'll update this post when ETIAS comes into effect.
Internet
Internet access is excellent in Holland. Most restaurants, hotels and public places offer fast WIFI. If you're staying with Dutch friends, they most likely have (extremely) fast Internet at home.Still, we advise you to get a local sim card with a large data allowance. It's much easier than connecting to WIFI networks every time. And you'll have the Internet everywhere (if not only for Google Maps!).It's also safer to use your data than public WIFI. Mobile Internet is that fast here that you won't notice a difference with the internet speed at home.These high speeds do mean you consume a lot more data because even watching Netflix on a mobile network on the go is no problem. Make sure your data bundle is adequate. We advise about 1 GB for every day you're here in Europe.
Language
The Dutch speak Dutch (Nederlands). To many foreigners, it sounds German. Please never, ever, make a mistake to call the Dutch language German. Or try to do your best to speak the few German words you know to a Dutch person. The German occupation during WWII isn't forgotten. Yes, we are friendly with our German neighbours now and welcome them to our beaches every summer, but it's a thin layer. Calling a Dutch person German is offensive, no matter how good your intentions are.In general, most people in Amsterdam and the rest of the country are conversational in English. Finding your way, asking for advice or help should never be a problem. Most of our US friends say how amazed they are at the level of English here.Do note that older people don't always speak English very well since it wasn't thought in school back then. Also note that although the Dutch speak English well, there are still cultural barriers like the Dutch directness.Read our article about the Dutch people to prepare yourself for this 🙂 and avoid misunderstandings.
Money
Euro banknotes and coins. Photo by verke.org – CC BY-SA 2.0
Money is always an important topic when you travel. What currency do you need? Can I use an ATM in Holland? How to exchange money, how to tip et cetera.
Read the answer to these questions in our post about Money in Amsterdam and the rest of Holland.
Currency
In Amsterdam and the rest of Holland, we use the Euro.We've also written a post about the best ways to exchange your currency in Euro. Including tips on using credit cards, traveler's cheques, and ATMs.
We want you to pay the least amount in fees possible (and have more to spend on your vacation).
Low fee Transferwise Debit Mastercard®
The debit Mastercard® we use ourselves on every trip
It can hold up to 40 different currencies all in one card. There are no sneaky fees. This card is perfect to pay for services in a foreign currency online and while traveling. Learn more in this post we wrote.
ATM's
ATM's are widely available. It's legislation that ATMs must be available within a certain distance from everyone's home to make access to cash available to everybody, even people living remote and the elderly. Google Maps has an excellent feature to locate the nearest ATM in Holland. Shopping centers and railway stations are always a safe bet to find one.
Sales Tax
Sales Tax or Value Added Tax. In Dutch we call it BTW. On non-food items, the VAT is 21% and on food items 9%. However, VAT/BTW is included in all prices you see. The price you see is the price you pay. If you live outside the EU, you might qualify for a tax refund if you take the goods out of the country. Participating stores have a VAT refund sticker at the shop windows and near the register.When you qualify, ask for a form at the cash register, get a customs stamp at the airport and claim your refund at the airport. After fees, you get around 15% of the purchase amount back. In general, only large department stores and tourist shops/areas offer this service. Regular stores rarely do.
Tipping
Tipping in Holland is different than, for example, in the US. It's not mandatory or expected. Salaries here are higher than elsewhere.Still, we do tip. It's considered rude if you receive great service, but you do not tip. However, there isn't a fixed percentage that is expected either.It's customary to give a tip of a few euros to round up the bill. Usually between 5 and 10% of the total amount, where 10% is considered to be an excellent tip.If service is extraordinary, you can, of course, tip accordingly. But don't tip as you would at home. That is often not expected or necessary. Tipping is expected in restaurants and in taxis. Not at many other places.
Paying to use the toilet
When you're used to free public toilet access at home you're in for a surprise. In Holland, it can cost between €0,50 and €1 to use one.This applies to malls, train stations, and even fast-food restaurants like the golden M. Have some coins ready for these small emergencies.Tip: your best bet for a free toilet is at table service restaurants and museums.
Museum reservations
Most museums don't require a reservation. Still, we do advise buying a ticket in advance or [use a card like the I amsterdam City Card to avoid lines at the cashier's window.
Some museums do require a reservation:
The Anne Frank House is notorious. Many tourists are sent away every day. The museum only allows entrance with pre-purchased tickets from their website at specific time slots. [Read more about this in our Anne Frank Post

.

The Van Gogh Museum allows stand-by entrance. But expect a long line. And often during busy days, you'll be sent away if you don't have a reservation. Make sure to make one as soon as you can.

Some museums require time slot reservations if you visit during a special exhibition. Check the museum's website before you go if they have an exhibition that requires a reservation. If you forget, aim for early morning entrance for your best change to get in without one.
Opening hours
Opening hours vary from business to business. As a general rule of thumb, most shops open during office hours on Monday – Saturday. One night a week (Thursday or Friday) shops are open until 9 p.m. This varies per city and even per suburb. In smaller town shops are usually closed on Monday (mornings.)Supermarkets are usually open from 8 a.m. – 9 p.m. or 10 p.m. Most Supermarkets are open on Sunday, but every city has its own rules about this and opening hours varies. Your safest bet is to go during the afternoon on a Sunday.Some cities have Sunday opening hours for all stores every Sunday (most big cities). Others let their stores just open once a month while others forbid their shops to open at all on a Sunday. The later often in smaller religious towns and villages.Museums and restaurants are usually closed on Mondays, even in big cities like Amsterdam. And remember that kitchens in restaurants often close at 10 p.m. In smaller towns as early as 9 p.m. The Dutch eat early. The most popular times for a reservation are between 6 and 7 p.m.
People
People celebrating Kingsday in Amsterdam on April 27th. Photo: Shoulderbeach CC BY-SA 4.0
We would say we Dutch are a friendly bunch. However, our reputation in the world doesn't always match that. We're known to be direct (sometimes offensive), our language sounds harsh to foreign ears, and some might say we're cold. And yes, aren't we those people legalizing prostitution and soft drugs? Ai, that almost hurt. Thankfully most of it comes down to cultural misunderstandings. Our language sounds harder because it's a Germanic language, and we have that hard G sound. I can guarantee you, most of the time, a conversation is friendly and polite except maybe during rush hour in traffic. But believe us, that sounds very different.We are direct, yes. Get used to it. See, we're direct too.But seriously, if you prepare yourself for it, it's less hostile and liberating to know what the other person thinks, no hidden agendas.It works the other way around too. If a Dutch person tells you they like you, they genuinely do. Just don't ask if they like your dress if you're not ready for an honest answer. And about those moral laws? Well, rest assured the Dutch don't appreciate or think either activity is socially accepted.Why is it legalized then? The Dutch are pragmatic. If you can't stop it, control it. The Dutch don't like to preach morally (outside the bible belt that is). We accept more than elsewhere that humans behave well, like humans.Read more about the Dutch people in this article here.
Phone
Holland has one of the best mobile phone networks in the world. The coverage is extensive, also in the countryside, in small villages, on the islands and beaches.Local prepaid sim cards are available but not easy for visitors to register. The better, cheaper, and easier option is to get a sim card for Europe with affordable bundles. Read our post for the best tourist SIM Cards in the Netherlands and Europe here.
Note because mobile coverage is this good, traditional ways to make a phone call are almost non-existent. Public phone booths are a thing of the past. Even emergency booths along the motorway are gone.
Postal services in Holland
Post offices do not exist anymore in Holland. Now they are called PostNL service points and are often located in shops, most often books and magazine stores like Bruna or Primera. It's just a desk. You won't find a public post office building anymore.You can buy stamps at PostNL points and sent letters and parcels from there. Use this link to search your nearest location.You can also buy packages of stamps at supermarkets like Albert Heijn. At PostNL points, you can pay for postage for individual pieces, and they can weight them for you when in doubt how many stamps to use. Orange mailboxes are everywhere to post your mail. Use the "overige bestemmingen" slot.
Public Holidays and other special dates
Every country has its specific public holidays, other significant dates, and school holiday periods. In Holland, that is no different.Holland doesn't tend to have as many public holidays as many other countries do. But we have specific days like Kings Day (April, 27th) and we add 2nd days to a few major holidays like Easter, Pentecost, and Christmas. In Holland, we use three "zones" for school holidays to spread the number of people going on holiday at once. This system extends the periods the Dutch have their school holidays. Thus prices are higher for longer.
Public Transport
NS Sprinter train at Amsterdam Central Station – © NS
In Holland, you'll find excellent transit systems all around the country. The main backbone of public transport is the train system, connecting every corner of the country with high-frequency scheduled departures in every directing.From the train station, towns and villages are connected by local buses. Or the Dutch rent a bike for the last few miles if needed.In large cities, you'll find an extensive system of buses, trams, metro's, and sometimes even ferries. Amsterdam and Rotterdam have them all.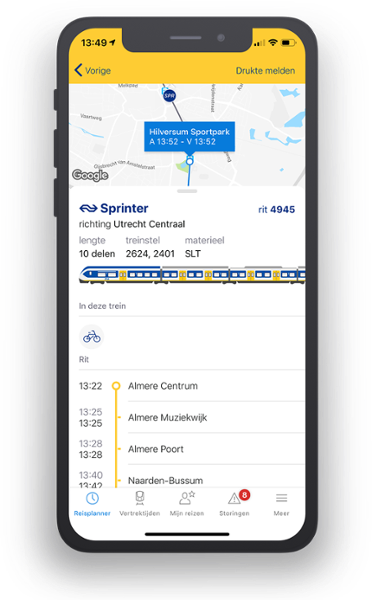 Download the NS app on your phone. It's available in English and super handy! From planning your train journeys to buying tickets directly in the app with a credit card (no paper tickets needed).
Responsible travel
In today's day and age, thinking about your environmental impact is essential when you travel. There are many small things you can do to make your travel less taxing on the environment.Choose an airline using modern airplanes that emit much less than older aircraft. Even better is choosing an airline where you can offset your Co2 emission. KLM is an airline that gives you that option when you book your flight.Within Europe, travel by train. Between Amsterdam and Brussels, Frankfurt, Paris, and London, it's easy to take a high-speed train, often just as fast or faster as a plane ride.Locally, make use of a bike or public transport to avoid the gas emission of a taxi or Uber.
Leave no trace behind
Leave no trace behind is global advice. When people travel, they tend to be more careless about waste than at home. Please don't be one of them and use trashcans when you're here, they're everywhere. In nature, take your empty bottles, wrappers and other waste with you until you see a trashcan and then throw it away. It's a small effort, with significant consequences.
Over-tourism
You may have heard some places and cities in the world suffer from over-tourism. Amsterdam is one of these cities. If you're mindful of this topic, you can make better choices: Use local companies, go off the beaten track a little bit like explorings neighborhood outside the city center, and avoid booking general group tours through travel agents and cruise liners. Use blogs like ours to get inspired instead.
Plastic
The most important thing to know is that plastic bags are not free in Europe. Legislation requires businesses to charge for plastic bags. This is to encourage people to bring their own bags. And it works. Since this legislation is in place, the one-time use of plastic bags is marginalized.
Recycling
The Dutch are very much into recycling. In our homes, we collect glass, paper, plastic, metal, and organic waste, all separate from our regular trash. When you see opportunities to separate your waste and recycle, please do. It's a small effort, but again, significant consequences.Paper and plastic are now often collected separately in public spaces, including trains, railway stations, and fast-food restaurants.Note that if you buy soda bottles (1 liter and larger) and trays or bottles of beer, you pay a deposit (in Dutch it's called "Statiegeld"). You can return the items when empty at any supermarket for a refund of that deposit (look for the return machines inside stores).
Support local
Local cheese seller market in Holland. Photo: © Hidden Holland
Did you know when you book tours with large global companies their subcontractors get only pennies on the dollars you spend?Plus the quality of these tours is substandard at best. Expect to be taken to tourist shops and inferior restaurants and spend little time at the main attraction. Instead, look for local tours and companies that are recommended by independent sources, NOT your cruise ship information desk.Most tourist attractions can be easily accessed by yourself, without the need for a tour operator altogether. Blogs like ours are great for inspiration and directions. A tour can be worthwhile if you want more background information or to go to difficult to reach places. Just make sure to book local, and ask about what exactly is part of the trip. Do they take you to a tourist shop, for example? (then keep looking for another tour) Is the tour recommended by a local?On our blog, you'll only find links to tours we 100% endorse, and we only work with companies taking reasonable commissions.
Safety
Disclaimer: we are no expert on security, crime, or terrorism. Please follow the advice from (local) authorities when making travel plans anywhere. Including Holland. What we say below is our honest, but personal, opinion from a locals perspective.Crime in general in the Netherlands is lower than in most developed countries. Due to strict weapon laws, murders are still rare. If they happen, it's usually outside the public eye and within criminal organizations. Shootings like in the US thankfully normally don't happen here.Also, due to a high standard of living and the Dutch value system, there is less division between income groups. Because of that, crime rates are lower. Your biggest concern should be pickpockets and bike theft. If you're mindful of your belongings, especially in busy areas and touristy areas, you should have a worry-free holiday. And make sure to lock your bike!
Scams
Criminal scams can happen anywhere, including places like Amsterdam. Always be vigilant.
One annoying scam for a while (not as present today as it was before) are fake police officers. They are dressed as legit-looking cops but they're not.
What can you do?
Ask them to speak Dutch. A fake cop is usually a criminal from Eastern Europe and can't speak Dutch (familiarize yourself with the accent when you get here)

Ask for their ID, policer officers should always identify themselves when asked.

Look for an official vehicle like a police car, bicycle, motorcycle, or horse nearby, they're marked blue, red and white. The uniform is black/yellow.

It's a red flag if they ask you for your wallet to investigate fake money. Regular police would never do that.

Draw attention to yourself, yell for help if the person is asking for your wallet.
Emergency numbers in Holland
If you have an emergency (police, fire services, and ambulance) always call: 112112 is the European version of 911 in North America. Use 112 only in case of a life-threatening emergencies, not if your wallet is lost.For that, you can call the police at 0900 – 8844. This number is for non-life-threatening emergencies.
Events
The safety standards for events are incredibly high. At events, there are always first-aid assistants available. There will be security and with significant events, police presence too.Often bags are inspected, and exits are always clearly marked. The use and possession of drugs are forbidden within the closed events areas (including soft drugs) and will be confiscated. Often the same applies for personally brought alcohol. At larger events, there is a zero-tolerance policy. If a person is aggressive, he or she will be arrested and often brought in front of a judge within 24 hours.
Fines
If you are an EU citizen, fines are often sent directly to your home address. They're collected by your local authority if there is an agreement between your country and Holland. Not paying has the same consequences as at home.If you are from outside the EU or your country does not have an agreement with Holland, you must pay fines before you leave the country, often immediately, but if not you will be stopped at the border. Fines are high in Holland. You will get them for the usual offenses. A few noteworthy are:
Touching your phone while operating a bicycle: €95
Using your phone in a car while driving: €340
Parking a vehicle where forbidden: €100-150 (€400 on a handicapped spot)
Peeing on the street: €140. Yes, gents hold your urge even after a few beers
Having no official ID on you (always, take your passport, a copy won't suffice, neither will your driver's license if it's from outside the EU): €90 for adults and €45 for kids!
LGBT travelers
Boat at the Amsterdam Gay Pride.
The Netherlands is known for its liberal attitude towards the LGBT community. But things never are as they seem to be at first glance. Primarily, due to large influxes of migrants from traditional countries (from the Middle East, North Africa, and Eastern Europe), hostilities do increase.More and more, you hear about threats or abuse (both physically and mentally) towards openly LGBT persons on the street, even in Amsterdam.Our advice is this: you're safe inside any establishment, whether geared specifically towards LGBT people or for the general public. On the street, be more mindful of your surroundings. Keep public affection to a minimum, especially if groups of youth are around.One final note: the police are always your friend! Remember this. Even if you went on a date that went wrong, the police will not judge you and will help you at all times. LGBT issues are part of their training.
Terrorism
Terrorism is a tricky subject. We wish we could say Holland is safe from terrorism. Unfortunately, we live in a world where there is no such thing as a safe place. Holland has not had any major incidents so far, but we came close.
Still, the change of personally becoming a victim of an act of terrorism is minimal even if you visit a hotspot like London, Paris, or NYC.
Everybody has to make their own safety assessment. But we believe it shouldn't stop you from living and exploring the world.
Being as fearful as many of us became doesn't match the statistics. Traffic or DIY projects at home are far more dangerous. Still, we do these activities without a second thought.
What can you do to minimize the change of being involved in an incident?
Know your exit when a need to evacuate arises, be prepared

Be mindful of your surroundings. When you see odd behavior, report it to a nearby police officer or security staff. Call 112 if you feel unsafe.

When you see an unattended bag move away from it and call 112 immediately

Trust your instincts when you don't feel safe, move away

Read your countries official travel advice.
Regarding the last advice, be aware, these are often overly cautious and because of that sometimes are less helpful (in our opinion).
Solo female travelers
As two men, we're not the expert on solo female travel. Still, we can give you general guidelines on what to expect.Thankfully, other people are experts on the topic; Like Karen from WanderlustingK. She is a traveler-turned-local in Amsterdam (now living in the Hague) and wrote a comprehensive post about solo female travel in Amsterdam and the rest of Holland.Amsterdam and the rest of Holland is a safe place to travel to for woman. Of course, things do happen like anywhere else. Still, Holland is one of the safer destinations for solo female travelers.Dutch women themselves are very independent. There is also a lot of security, cameras, and police presence, especially in big cities. The Dutch tend to be a bit shy compared to other cultures. It's not that common for a Dutch guy to approach a girl directly.A few things to watch out for, use extra care in the red light district (everybody should, men and women). When you go out for a drink, make sure you watch your drink at all times. If you are harassed (most commonly by minority youths), just ignore them, and you're fine.When you feel in real danger, always call 112 immediately.
Timezone
Holland is in the GMT+1 timezone (CET), and we observe daylight saving time. That means in general when it's noon in New York City, it's 6 p.m. in Holland. When it's noon in London, it's 1 p.m. in Holland. And when it's noon in Australia, it's 2 a.m. in Holland.We said in general because the exact dates of switching to daylight saving times differ in the world. North America, for example, is usually one week behind. In that timeframe, the time difference can be larger or smaller.In Holland (and the rest of Europe), we switch the clocks the last Sunday in March and the last Sunday in October. Our best tip: when in doubt, ask Google what time it is in Holland and your home country.
Weights & Measurements
In Holland, we use the metric system. Meters, liters, and kilos and not feet, ounces, and pounds like countries that use the Imperial System. Some of the most frequent conversions are:1 mile = 1.609 kilometers 1 gallon = 4.546 liters 1 pound = 0.453 kilos or 453 gramsThe easiest thing to do is to use Google for conversions on the fly. If you need mobile data during your visit, check out our post about this topic here.
Weather and Climate
The weather in Holland. Ahh, our favorite conversational topic of them all. Our climate is considered mild. Due to its proximity to the sea, it's not too cold or too hot. We have four distinct seasons. But climate change is changing that a bit. It hardly freezes long enough anymore to ice skate in wintertime, and summers are now often tropical.What still holds true is the weather here is unpredictable. You should always expect a range of temperatures. And rain is always around the corner. It didn't get this green here from the sun. Pack accordingly. If you're annoyed by the weather, know you're in good company, and you'll have the perfect conversation starter to connect with a local.
AMSTERDAM WEATHER[tcb-script]!function(d,s,id){var js,fjs=d.getElementsByTagName(s)[0];if(!d.getElementById(id)){js=d.createElement(s);js.id=id;js.src='https://weatherwidget.io/js/widget.min.js';fjs.parentNode.insertBefore(js,fjs);}}(document,'script','weatherwidget-io-js');[/tcb-script]